In a recent review of over two dozen less-than-successful Facebook campaigns, I discovered that every single one of them was making the same two mistakes.
In my last post, I explained how excessively broad targeting is killing their ROI.
Today, I'll explain why the bigger problem is the way the campaigns were set up in the first place.
This isn't just a common mistake among advertisers who are losing money, even those who are happy with their results could do a lot better. How much better? Most advertisers are paying more than 2 times what they should for clicks, and a lot are paying 3x or more.
Full Funnel vs. Headless Funnel
In a headless funnel, the advertiser is targeting a cold audience based on interests, demographics, and behaviors, and immediately attempting to sell to people who have never heard of them before.
If you've got a big enough budget, you can make this work, as long as you're getting enough conversions for Facebook to "learn" how to target your ads better.
However, there's an easier way to do the job.
What a Full Funnel Looks Like
Instead of selling directly to a cold audience, we add a second campaign at the top of the funnel.
In this campaign, we use boosted posts to target the same cold audience, but we use content that educates, informs and entertains the user.
By carefully selecting content, we can ensure that the people who Engage with our stories at the top of the funnel are more likely to be interested in what we offer.
Just as importantly, the people who engage with our top of funnel campaign can now be targeted separately, using Facebook's built-in Page Post Engagement Audience.
Why Full Funnels Perform Better
To understand why full funnels perform better, let's look at some live data from one of our ResultFlow users' campaigns.
His campaigns are still in the early stages, but we can already see a huge difference in performance developing.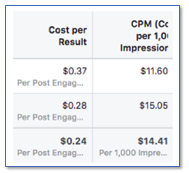 The first image here is from our TOFU1 campaigns – the cold audiences that we all have to start with.

As you can see, the cost to reach this audience is around $15 per thousand impressions, and the cost per engagement is 24 cents per post engagement.
The second image is from our TOFU2 campaigns – which are targeting people who have already engaged with our TOFU1 campaigns.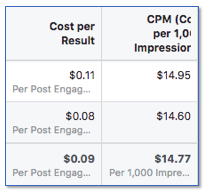 As you can see, the cost to reach the audience is about the same as before, but the cost per engagement is just 9 cents now.
People in our TOFU2 audience – those who already engaged with our TOFU1 campaign – are almost 3 times as responsive to our ads, even though it doesn't cost us any more to reach them.
The End Result? Superior ROI.
In the same way that click through rate provides a good predictor of conversion rate with search ads, the engagement rate is also a good predictor of your conversion rate from a Facebook funnel.
This client is in the early stages of implementation, and he's still testing ads and content all the way through the funnel, but he's already getting nearly 3x the results that he would have gotten from a headless funnel.
To see where this can go, let's turn to another client who started working with us 4 years ago, and has consistently implemented a full-funnel strategy on Facebook.
Does Facebook Beat Google? Yep.
This client is an online retailer, who started their campaigns in August of 2014.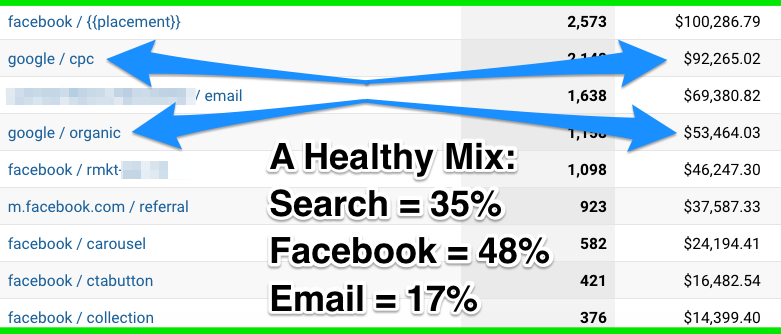 They're doing well in PPC, and they have top-3 organic rankings for nearly every keyword they're bidding on in paid search.
In spite of their success with search engines, Facebook is a much larger source of traffic and sales than all the search engines put together.
The email list that they built from their Facebook funnels also delivers sales at a very healthy rate.
They could not have reached $600,000 a month in sales without Facebook advertising, and they'd have given up years ago if they were running headless funnels.
What's Their SEO Strategy? I just told you.
Every time I talk about that retailer client, someone inevitably looks at the $50,000+ in monthly sales from organic search and demands to know what they did to get those rankings.
The answer is that they did nothing, other than the usual on-site stuff that every retailer should do, most of it automatically handled by their Shopify store.
No link building. No doorway pages. No special effort at all – the only thing they did was focus on driving traffic from Facebook.
They're not alone. In our most recent long-term study of full-funnel advertisers, 91% had experienced a significant gain in their organic traffic year over year, with an average increase of over 94%.
Thanks For Reading!
Dan Thies