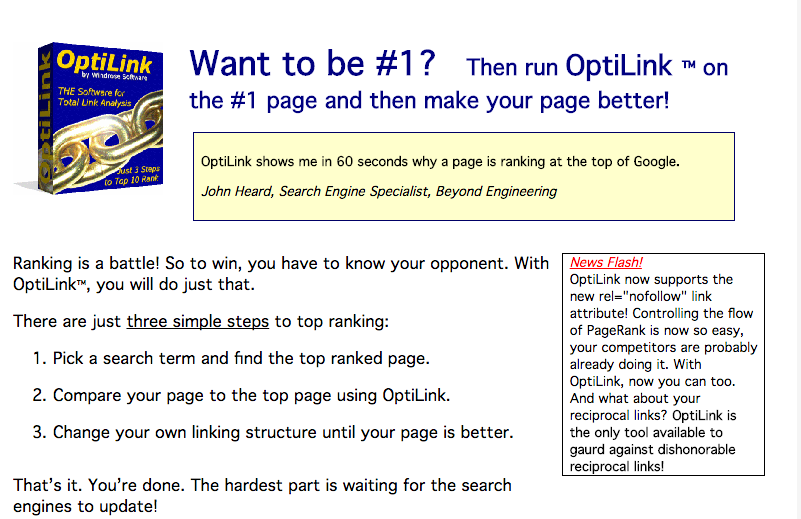 On May 22, 2002, at 2PM Pacific time, Michael Campbell announced OptiLink to his newsletter subscribers. This was the first of three ground-breaking tools that "put me on the map" in SEO virtually overnight. About time too! I'd been struggling online since 1995.
OptiLink changed everything for me – and every SEO too.
I know it seems hard to believe for you "new kids" :), but way back in 2002, no one was talking about link text. The tools of the day measured keyword density and link popularity (the count of inbound links, but not the text used). OptiLink was the first tool to spider search results to get the backlink results for a URL; locate the anchor text used; and report in a manner that led to actionable decisions to dramatically improve rank. In those days, there was a batch ranking update every 4-6 weeks we called "the Google dance," and nearly all OptiLink customers could dramatically move rankings in one dance.
OptiLink was a game changer. Over the next two years I invented two more things equally powerful – Dynamic Linking and OptiSpider – but those are for another day.
What Was SEO Like Before OptiLink?
Rounding off just slightly… it was a complete lie. I know, because I just about became one!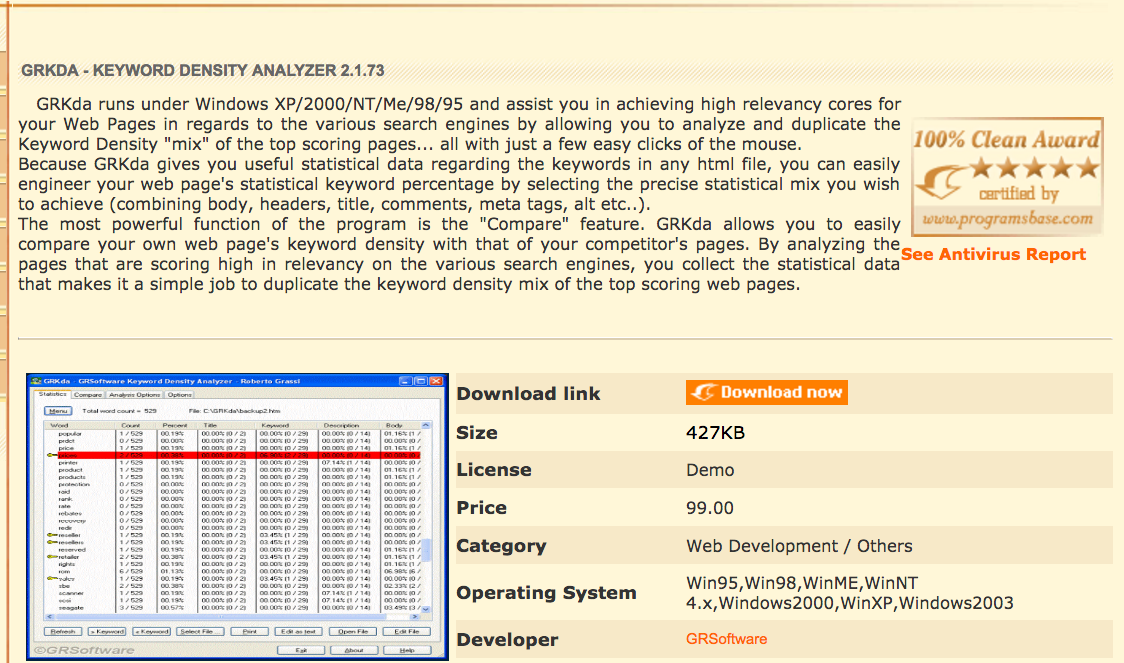 During late 2000 and all of 2001 I was getting serious about growing organic traffic to some sites I was running (was even making some money!). The "gold standard" of SEO analysis of the day was a little tool named GRKda.
GRKda measured "keyword density" which was all the rage back then and "proven" over-and-over to be the best way to rank a page. SEOs also talked a lot about "link popularity" as well.
Meanwhile, I was regularly talking with Michael Campbell and he suggested that SEO Software was a hot market that I should pursue, so I started building OptiText as the GRKda-killer. Mine software was easier and faster and showed density in real-time as you typed. I called it OptiText. Never heard of it? Here's why.
About six months of development and a bunch of reviews with Michael, I had a damn fine prototype. There was just one little problem…
It didn't work! Well, I mean, the software did function; it measured keyword density just fine; it gave you feedback in real-time as you typed in a WYSIWYG editor (more-or-less … it was 15 years ago!); and you could even include your customizable stop-word list. So what was the problem?
I proved in hundred of tests that keyword density in no way whatsoever correlated with ranking at all!
I compared my results with all the other products available and not one of them gave actionable information. Shock and horror – they were all lying their asses off.
So I had a real ethics issue! I had a product nearly ready for market. It did what everyone expected, plus just a bit better and more friendly, but it was a complete and utter lie. What to do? Tell the same lies? Somehow sidestep the question? Figure out what it was good for other than ranking?
Micheal suggested we send it to a few Internet marketers on his list and have them make suggestions. Greatest single advice in my entire life!
Stay tuned. Tomorrow I'll tell you the one sentence that put me on the right path and some of the crazy case studies that propelled OptiLink to the top of every SEO's list.